Home
Sid Katz Mentorship Program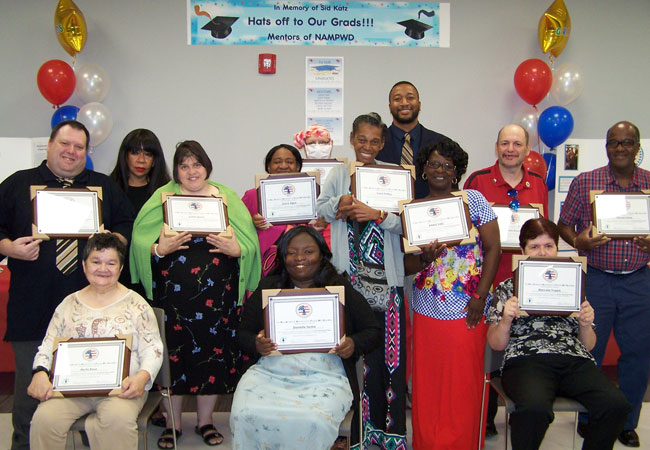 Elizabeth, NJ – September 14, 2016 – Fourteen (14) people with disabilities graduated from the Sid Katz Mentorship Program here at Community Access Unlimited (CAU). Those graduates are now scheduled to become mentors to other people with disabilities.
CAU is a statewide, Elizabeth – based nonprofit organization that provides support programs and services to adults with disabilities as well as at-risk youth under the Department of Children and Families. CAU aims to help enable members to live independently in the community by providing supports in areas such as housing, vocational skills and life skills training, education, advocacy, and recreation.
The mentorship program was named after the late Sid Katz who was a long time CAU member and veteran advocate for people with disabilities. Sid Katz, along with Gary Rubin are the founding members of CAU's New American Movement for People with Disabilities (NAMPWD), which is an advocacy group within CAU.
Myrna Milan and Charlotte Glover worked together tirelessly to construct the foundation of the mentorship program that would be used to train our members in order to develop them into the mentors that they are today. About midway through the mentorship training Myrna Milan departed from CAU in an early retirement, and Michael Williams took over her position and also the mentorship program. Michael understood the vision and worked tirelessly to see to it that the fourteen members completed their training and graduated from the mentorship program, thus officially bringing the vision to life!
According to Myrna Milan, her vision and the inspiration for the program came from her experience of working with children with disabilities, and also the members of CAU. Working for CAU was her first time working with adults with disabilities so she understood that she "had to learn a lot, quickly." Therefore she started researching to become aware of the statistics about the "high rate of victimization- physical, sexual, and emotional, by caretakers of people with disabilities. However, to the credit of CAU that is not what I was hearing from members. There were complaints about staff, but most of them had more to do with communication problems rather than any intentional risk of abuse."
While working with NAMPWD, Charlotte and Myrna identified a core group of members who were articulate about their concerns and somewhat able to advocate. While listening to the members, Myrna and Charlotte started to research program trainings that were available to train people to become self advocates. A self advocacy training program would enhance the work that NAMPWD was already doing. However, in an effort to promote creating a program that could expand member participation, a "peer" mentorship program was created with the belief that it could broaden into a network of members and have representative participation from all programs throughout CAU. On numerous occasions, conversations with members of NAMPWD and other members of CAU, they were vocal about their concerns. These members were just as much concerned about other members who had limited ability to communicate and/or lacked confidence on how to advocate for themselves.
In order for the mentorship program to be a success there needed to be an emphasis on effective communication. It was believed that this would enhance member's communication amongst each other and also with staff personnel, which is whom the members would ultimately communicate their concerns to. There is also a considerable number of training sessions devoted to listening skills, how to show empathy, how to value and respect each other, how to provide feedback, and how to build trust in each other. These skills are essential to developing a good peer relationship among members who attended these trainings. These trainings progressed to teaching members about personal and systems advocacy as well.
The Sid Katz Mentorship Program consists of eight (8) training sessions that are each two (2) hours long. These training sessions cover a range of topics such as communication skills, what a mentor is and what makes a good mentor, different types of advocacy and why it is important, qualities of a good leader, how to become a good leader, networking and why it is important, and even communication skills workshops with Tony Provenzano.
The ultimate goal is to strengthen member participation in the advocacy efforts of NAMPWD and also within CAU as a whole. The vision is to have a broad advocacy representation from every CAU program. Eventually, the long term vision is to use the peer mentorship program as a way to broaden the advocacy skills of NAMPWD members, use it as a recruitment tool, and broaden the NAMPWD organization so that it will be the recognizable advocacy group on systems advocacy throughout the State of New Jersey.